The amazing Ned Potter is due to return to the East Midlands to share his knowledge on making presentations exciting and memorable. Don't miss this opportunity to find out what really makes a presentation work for you – whether it is for training, to convey a new idea, to share reports and statistics or to enliven your social media pages.
The event is being held at DeMontfort University on Thursday 19th July 9.30-4.30. Full details below.
Costs including refreshments and lunch: £130 for LIEM members; £170 for non-members.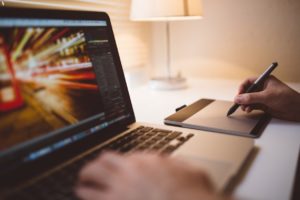 This is a hands-on course, exploring in detail what it means to create brilliant presentations. There is a blend of ideas, examples, and hands-on time, that gets everyone up to speed on what truly matters with presenting in a Library context.
The morning session covers the golden rules of creating presentations (all based on peer-reviewed research), finding amazing images without breaking copyright laws or spending any money, and creating PowerPoint Presentations in three different styles. The three styles vary in complexity and flexibility so you can choose which to use for a given presentation.
The afternoon introduces alternatives to PowerPoint such as a Kahoot (an interactive quiz tool) and Prezi (a zooming presentation tool), covers when and when not to use these, and how to use them most effectively. The final section of the day centres around researching presentations, delivering talks and teaching, and conquering nerves.
This course is for staff at all levels who are involved in training, presenting and communicating any aspect of the IT, library and information service It will be invaluable to any professional keen to improve engagement with users.  Book using this form
Feedback from previous versions of this course:
"I would definitely offer it to other colleagues as I feel the techniques covered are ones that could be practically incorporated into working practice i.e. they're not just a gimmick to do once to show you've attended the workshop, but something that you can build in to your presentations to continue that search for best practice and therefore better experience for attendees – whether they're students, staff, or members of the public."
"Fantastic course, wonderful trainer. One of the best training sessions I have ever been on! Presentation and pace was perfect with plenty of time to try things out."
"I found this session very useful indeed and will be using all the tips to help improve my presentation skills. For me it was the perfect balance of information, activity, and experimentation. Hugely enjoyable, when are you coming back?"
"Ned is an expert and an engaging speaker. Very supportive atmosphere for learning. I've looked at Ned's material online but it was great to have him explain it. Very, very relevant and a big help in my day-to-day work. Thank you Ned!"
Ned Potter is an Academic Liaison Librarian at the University of York, and a Trainer for various organisations including the Bodleian and the British Library. His book The Library Marketing Toolkit was published by Facet in 2012. Ned can be found online at ned-potter.com and on Twitter at @ned_potter.